By Ginny
Disability & Pleasure
People With Disabilities Deserve Pleasure Too!
I'm Ginny from My Disabled Sex Life.
You may think or have been told that due to disabilities you can't or shouldn't have sex – I'm going to tell you why this is entirely wrong and how to get the most out of your pleasure!
Sex & Disabilities
It may seem like a scary thing to think about, how to start having good sex with disabilities. I know I found it very difficult.
I didn't know what to tell my partners about my disability, I struggled with painful symptoms and didn't speak up about it and found sex a confusing world. But since learning and reading helpful tips and sharing my experience with others, sex has become a hugely important part of my life again.
If you have taken a break from sex because of disability or weren't really sure where to start, let me reassure you. You're welcome in this space. Disabled people are sexy. Disabled people deserve to have pleasure and fun sex lives. Sex is for everyone to enjoy! 
You may think or have been told that due to disabilities you can't or shouldn't have sex, or maybe even experienced comments from people that no one will want you because of your disability. This is entirely wrong! There has been a long-standing assumption that sex isn't for disabled people. This has stemmed from Ableist views that only non-disabled people that are "pretty" and thin should be experiencing sex and relationships. Boring! The reality is that so many disabled people across the world with a range of abilities, who all look and experience themselves very differently are having great sex and relationships. 
It's so important to know that you are special and individual and you can experience the joy of sex like everyone else. 
I asked disabled people to come forward and talk to me about their sex lives and there was a huge range of different disabilities.
Yes, there can be problems that arise when having sex with disabilities but there are lots of ways to adapt and overcome issues. Communicating thoughts and feelings with partners and having an open relationship with a disability can lead to huge improvements.
How To Have Good Sex With Disabilities
Look at your body in the mirror

Take photographs, study all of your beautiful curves, look at the way your body moves, name the things you like, dress up in nice underwear and embrace all of your beauty and power.
Getting to know your body is so important. Learning what gives you pleasure means that when you have sexual activity, you can communicate what you like and what your limitations may be to your partners. You will learn what pressure and sensations you enjoy and what areas may be painful or not accessible due to your disability. It's important to know your body to limit painful experiences and avoid injury or other symptoms flaring.
Become comfortable with disclosing disability

It may be tricky at first or you may feel like the word disabled doesn't feel right. But disability isn't a dirty word and understanding your condition and talking about your disability will help to improve relationships and sex.

You may of experienced rejection or hurt after disclosing a disability, but you're better off without them. You know your worth and if someone is uncomfortable with your disability they aren't worth your time and sexual energy. 
Don't be afraid to be creative and try something new

So we've explored our bodies, we love them fiercely and we know what we like its time to get out there and enjoy some safe, consensual and passionate sex. Don't be afraid to try new things!

Often when having sex with disabilities things might not go to plan, but don't be disheartened trying again is part of the fun. Due to physical limitations or differences in our body's abilities positions or techniques might not work for you and that's ok, write it off and move on to another position.

I recommend positions that are low impact on joints and strenuous. For example, my favourite is prone to the bone where I lie on my front and prop up my pelvis on pillows, this means I can position a toy in between my legs for stimulation, but none of my joints is holding my weight. I also enjoy positions where I'm lying on my side with my partner in front or behind me and then we get to explore each other bodies without too much movement. Get creative and come up with new ideas together! 
Don't forget to include mobility aids or positioning aids

If you use a chair, walker, frame, crutches, perching stool, hoist or any other mobility aid don't be afraid to incorporate this into sex.

There's an assumption that mobility aids aren't sexy and shouldn't be brought into intimate moments. I'm here to tell you to throw that assumption out the window, imagine your lap is pulled onto a wheelchair and your lovely person is embracing all of you. YUM.

There are many pricey versions that you can buy online but fear not if that isn't in your budget you can adapt mobility aids around your house or just use blankets and pillows to make things more comfortable. 

For example, you can buy a sex swing online for £80-£300, or you can use your existing hoist equipment, just because an item may be something you use for everyday accessibility doesn't mean it can't be used for sex too. 

Things like positioning aids, sponges and wedges range from £10 for inflatable options or upwards of £300 for velvet couches. I recommend Bedroom Adventures for varying wedges and toy mounts.

Fear not, bog-standard cushions and pillows work just as well and towels can be rolled up and used to hold positions.
As Cliterally The Best says, "communication is the best lube" and my goodness is it true. Communication is the most important thing no matter what your ability is. Communicating and being honest about every aspect of your sex life is the biggest and most positive change you can make for your sexual relationships.

Communication is above all the best change I have made to my sex life with disabilities. This can be communicating your wants and needs. I can be scheduling sex to work around times of high levels of pain and fatigue, it can be communicating that something is starting to hurt, communicating that you want to do next or communicating that something has changed and you don't enjoy what you used to.

Communication helps you to learn what is best for your body and how to be comfortable with it and others.
My Favourite Disabled-Friendly Sex Toys
The sex toy market can indeed be tricky to navigate as a disabled person. Some products can be difficult to grip or hold, some can have fiddly buttons, not work with your anatomy or a host of other reasons.
Here are some toys that I have found, used or think could be helpful.
The Ruby Glow Blush
The ruby glow is a hands-free ride-on vibrator that was designed for use while sitting in a chair. I love this toy because it's non-penetrative and very light and small. It's easy to get into position and can be helpful for people with vaginismus as well as disabilities.
Use code 'GINNY' at the checkout for £5 off.
Charmed Sweet Vibes Wand
Wands are great powerful all-rounders and there is a wand out there for everyone, big or small, mains powered, with attachments and in any variation you can imagine.
Wands are generally great because they are powerful vibrators with a large soft head which means the vibration can be directed anywhere.
Evie and I are both in agreeance that this is one of the greatest wands of all times.
One side features a soft silicone fin and the other a round ball that is used the same way as a traditional wand. The curved tip is perfect for slipping around your body.
Check out Evie's sex toy discount codes for 15% off!
Hot Octopuses Pulse Solo
For you lovely penis owners here is a vibrating sleeve with a difference.
The Hot Octopuss is great, it's a silicone sleeve that delivers powerful vibration without the need for an erection to be maintained so it doesn't exclude some penis users like other sleeves, rings or masturbators.
Important Instagram Accounts To Follow
Books For Sex With Disabilities
Handi, Jess Tarpey, Katy Venables, Andrew Gurza
The Handi Book of Love, Lust & Disability
"The Handi Book of Love, Lust and Disability unearths new conversations on sex, relationships and disability. It's beautifully designed and full of raw, powerful and inspiring stories, poetry and artwork from 50 phenomenal contributors from the disabled community."
BUY NOW
Mcruer
Sex and Disability
"Sex and Disability, unites two terms that the popular imagination often regards as incongruous. What if "sex" and "disability" were understood as intimately related concepts? And what if disabled people were seen as both subjects and objects of a range of erotic desires and practices?"
BUY NOW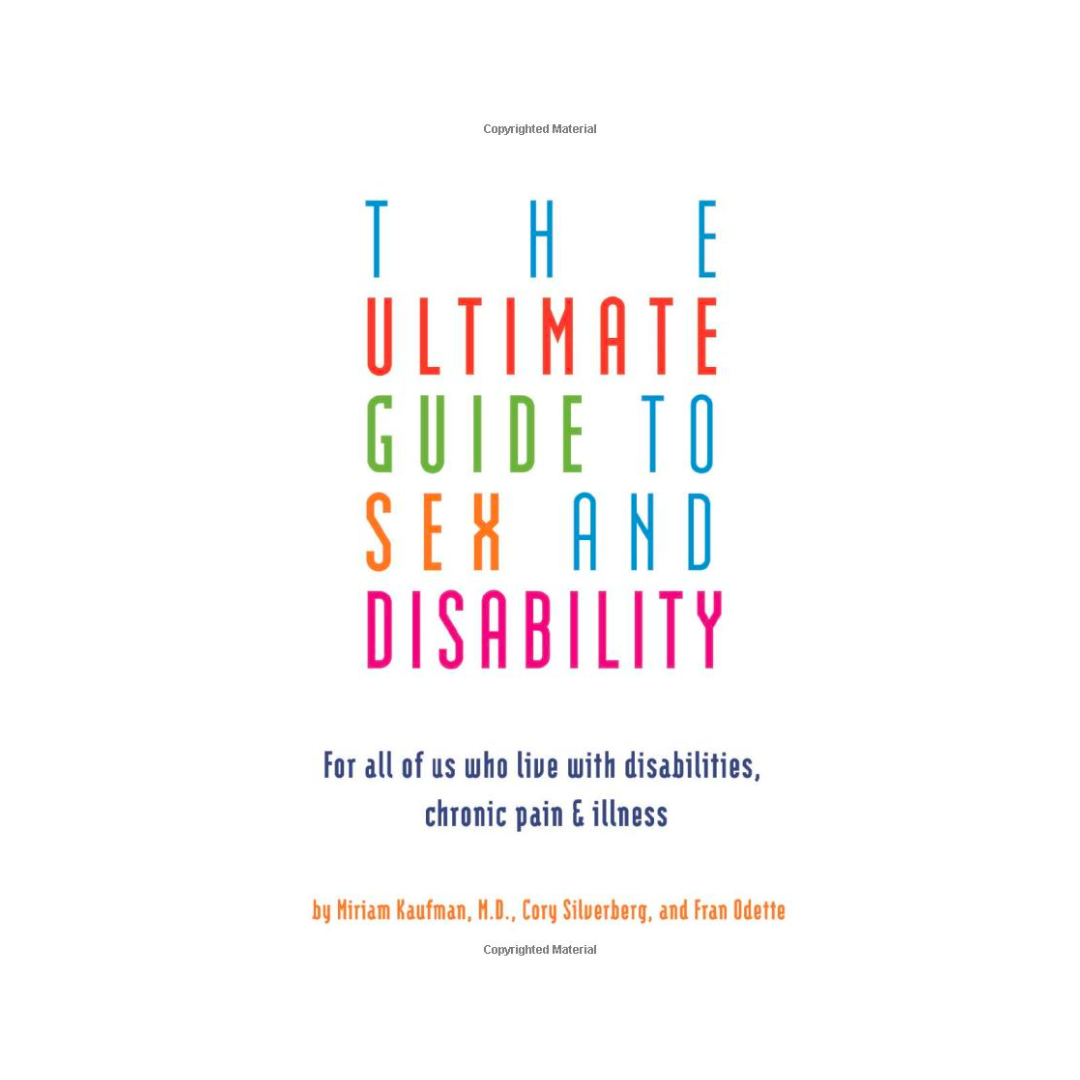 Cory Kaufman, Miriam, Silverberg, Fran Odette
Ultimate Guide To Sex And Disability: For All of Us Who Live With Disabilities, Chronic Pain and Illness
"The Ultimate Guide to Sex and Disability is the first complete sex guide for people who live with disabilities, pain, illness, or chronic conditions. Useful for absolutely everyone, regardless of age, gender, or sexual orientation, the book addresses a wide range of disabilities - from chronic fatigue, back pain, and asthma to spinal cord injury, hearing and visual impairment, multiple sclerosis, and more.
Expertly written by a medical doctor, a sex educator, and a disability activist."
BUY NOW
"Sex without lube is like a roast dinner without gravy, it's ok but the meats a bit dry & it's much better drowned in the stuff" - Fran Bushe